My Genealogy Home
Intoduction and Information
Posted Sep 2006 This is a work in progress so please visit again as I learn.
Gathering family information and the history of those that have gone before, is of great interest to me. I welcome people that share this interest to enjoy my site.
If you think we might have a common bond, or if you have something to share, I would greatly appreciate your help. I am looking for digital copies of documents, certificates, photos, life stories, the things that will bring life and personality to the records.
If you would like a GEDCOM file or my source information contact me.
If you would like sibling or side line information contact me.
If you would like photos (most on my site are reduced as much as 75%) contact me.
Contact me by using the Guest Book. Put contact information in the comment area. (Note, your contact information must be in the comment box) (I can remove your personal information. from the web site, after I have made contact with you, at your request.)
Photo Collection
A few direct line photos on Christensen & Tripp and Seaman & Park families are located on the links below.
Also, check out the identified Photo and Collection List that has both direct and side line information located on Seaman and Park links below.
Return to this page by hitting the < back button on your web browser.
In the future I will add my Seaman & Park old photo collection.
The Park collection will be mostly from Pensylvania. The Seaman collection will be mostly from New York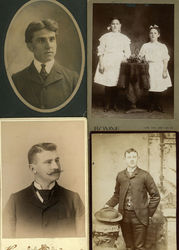 Seaman & Kuneth Park & Suter
Christensen & Bennett Tripp & Halverson
Surname Lists
.
Visit my Seaman & Kuneth information by clicking on this link.
http://seamangenealogy.mysite.com/
Surnames on the Seaman & Kuneth pages are: BEVAN , BISHOP , FREEMAN , GAYNOR , KENNETH , KUNETH , LANE , PEARSALL , PRITCHARD , SEAMAN , SIMONSON , STRUGLINE
Visit my Park & Suter information by clicking on this link.
http://seamangenealogy.mysite.com/
Surnames on the Park & Suter pages are: BARNETT , BEAL , BRACHT , BRUMBACH , BRUMBAUGH , CAMERON , CLAPPER , CREIGHTON , CURFMAN , DE FOIX , DE VIOX , DEAROFF , DHOM , DHOMEN , DRAKE , EASTER , ESTERFERRO , FINK , FORSHEY , FOURCHE (FORSHEY) , FRAISER , FRAKER , FRASIER , FREDELINE , GEDDES , GORDON , HASTINGS , HUTER , JEFFRIES , KELLER , KEMPER , KERLIN , KIEFER , KORFMANN , KYLER , LEISS , LIMPER , LOEW , LUFFT , McDONALD , McLEAN , MELVIN , METZGAR , METZGER , MEY , MULLER , PARK , PARKE , PATISON , RATTGE , REISS , RODKEY , RUB , SCHEFFER , SCHERER , SCHMIT , SCHMITH , SCHMYT , SHELLENBERGER , SMIT , SNARE , STANAFORD , SUTER , SWANK , SWEENEY , TAYLOR , THOM , WAGONER , WARING , ZIMMER
Visit my Christensen & Bennett information by clicking on this link. http://christensengenealogy.mysite.com/
Surnames on the Christensen & Bennett pages are: ALDRED , ALDRIDGE , ALEXANDER , Allen , ALLRED , BEARDSWORTH , Bennett , BEST , BOSWELL , Calvert , CAMERON , CARR , CARY , Christensen , CLOUGH , CONVERS , COTTER , CROSHAW , CROWTHER , DIFFEE , DUCK , FALLIN , FOX , GLASFORD , GOODWIN , GOORE , GRIMES , HAIGH , HAMILTON , HARLAN , HARLAND , HOOPE , JONES , KENDRICK , Kitchin , KNOLLYS KNOWLES , LAMBERT , LANE , MADDEN , MADSEN , MALLINSON ,MARSDEN , MC CURDY , MCCURDY , MITCHELL , Murray , NORRIS , PARKER , PATRICK , PICKERWELL , PINCOCK , POAPE , RASMUSSEN , RIBGY , RIGBIE, ROFF , ROLFE , Rowland , SCARESBRICK , SHARPLES , SHAW , SHERWOOD , SIDALL , SMEDLEY , STAMPER , STEWART , STILSON , STRANGE , STUART OR STEWART , SUMMER , Taylor , Thomas , THRASHER , TILLS , TOLE , TOLLE , TUCKER , WALKER , WEAKLEY , WEST , WILLIAMSON , WILMOUTH , Wilson , WOOD , YOGNSEN , ZONNICHSEN
Visit Tripp & Halverson information by clicking on this link. http://christensengenealogy.mysite.com/
Surnames on the Tripp & Halverson pages are: (ANABLE) , (ESKELSON) , ADAMSEN , Allen , ATHERTON , Bartlett , BIRD , BLACKMORE , BOMPASSE OR (BUMPUS) , BOND (HIBBARD) , BOND , BOOTH , BOWMAN , BROWNE , BUMPAS , BUMPASSE , CARTER , CAYSE , CHANNON , Christensen , CHRISTIANSEN , CLARK , CROMMETT , Curtis , DALYBER , Davis , DIAMOND , DOLLIVER , DURRELL , EAGLE , ELWELL , EMERY , ESKILDSEN , EVENSEN , EYLES , FOLSOM (FOULSHAM , FOOTMAN , FOULSHAM (FOLSOM , Franklin , FRANTZEN OR FRAN , GILLMORE , GILMAN , GILMORE , GREENAWAY , GREENOWAY , HALL , HALVERSON , HALVORSEN , HANSEN , Hatch , HATCHE , HAZELL , HELGESEN , HIBBARD , Humphrey , Hustad , JACKSON , JACOBSEN , JOHANSEN , JONES , JORGENSEN , KELME , Knud , KNUDSEN , LARSEN , LOVEL , LOVELL , MATTHEWS , MERRILL , MICHELSON , MOGENSEN , MOON , NEWMAN , NIELSEN OR JENSEN , NIELSON , NORRIS , NORTH , NUTLEY , OLSEN , PEDERSEN , PEDERSON , PIPER , Proctor , Royal , RUDD , Sammon , Sarah , SHEPHERD , SHEPPERD , SIMPER , SKITTRELL , SMITH FOLSHAM , SMITH , SPACKMAN , SYMLAND , THOMPSON , TILDEN , TRIPE (TRIPP) , TRIPP , Tucker , WAITE , WALES , WHITE , WOOD , WOODHALL , York , YOUNG